Creamy Vegan Cauliflower Soup

Are you in the mood for a filling, tasty, plant-based and creamy soup? Then this cauliflower soup recipe may be just the thing you are looking for. Made with simple ingredients anyone can follow the easy steps and cook this simple soup.
This cauliflower soup recipe is packed with healthy veggies, lots of flavor and love. In this vegan soup, cauliflower is of course the main ingredient and the star.
Cooking homemade food and healthy recipes is truly a favorite thing of mine and the best way to enjoy a good meal. Then I know exactly what I am eating, and of course it also almost always tastes better. I also love to share food that is cooked with basic ingredients as anyone with a passion for cooking can follow an easy recipe.
It may sound corny and slightly chliche, but I simply love cooking this recipe on rainy or cold days in the winter months, and cozy up with a large serving and a blanket. On those days, soup season is on, and a filling soup is the best comfort food.
My grandma often cooked cauliflower soup for the rest of the family when I was a kid, and this is a vegan version of her delicious recipe.
If you have leftovers, let it cool down in room temperature, store it in an airtight container in your fridge, and enjoy the rest of your creamy soup over the next days.
It`s preppable – prepare this cauliflower soup ahead of time
I love avoiding stress before dinner, and trying to have something ready and cooked at a specific time can add a little stress. So good news! This soup can be prepped ahead of time, and all you have to do is heat it up before serving. If you prepare this soup for a later meal make sure to keep the cooked cauliflower that you remove before pureeing the rest in a separate container, and add it in when you are heating up the pre-prepared soup.
Try this healthy and creamy cauliflower soup the next time you are in the mood for an easy, filling and delicious meal.  If you make it I would love to hear from you, please write a comment to let me know what you think. If you snap a picture, tag me on instagram @by.linaelisabeth – I look forward to seeing how your homemade soup turns out!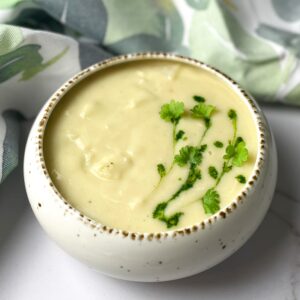 Creamy Cauliflower Soup
Made with simple ingredients, anyone can follow the easy steps and cook this delicious vegan soup. This cauliflower soup recipe is packed with healthy veggies, lots of flavor and love. And cauliflower is of course the main ingredient and the star.
Ingredients
1000

g

cauliflower

about 1 large head of cauliflower

150

g

yellow onion

about 1 medium yellow onion

3

tbsp

vegan butter

1300

ml

water

2

tbsp

vegetable broth powder

3

tbsp

nutritional yeast

250

ml

vegan cooking cream

I use "creamy oat" from Oatly

20

g

all-purpose flour

salt

to taste
Parsley Oil Garnishing (optional)
2-3

handfuls

fresh parsley

one store-bought plant

½

tsp

extra virgin olive oil
Instructions
Roughly chop the yellow onions.

Cut the cauliflower into smaller pieces (about 3x3 cm).

Take a large soup pot (at least 3,5 liters). Add in 1 tablespoon of vegan butter and bring to medium heat. Once hot, add the diced onions and fry for about 2-3 minutes.

While the onions are frying, bring the water to a boil in a separate pot or using a kettle. Add the vegetable broth to the boiling water (if using a kettle to boil the water mix the water and vegetable broth in a separate bowl or measuring jug).

Add the cauliflower and the water with vegetable broth to the pot with the onions.

Bring to a boil, and boil the cauliflower on medium heat until soft. This takes about 30 minutes.

Take out about half of the cauliflower, and add to a bowl - set to the side.

Add the nutritional yeast to the pot with the cauliflour, onion and veggie broth. Use a hand held immersion blender to puree these ingredients. Then, pour the puree over to a large bowl, and set to the side.

The nutritional yeast gives your soup that little hint of a cheesy flavor.

Add 2 tablespoons of vegan butter to the now empty large pot and bring to medium heat. Once the butter is melted, add the flour and use a whisk to mix the melted butter and flour well. Then add the vegan cream and whisk together until it thickens (this will only take a couple of minutes). Then, add the pureed mix to the pot and heat it up.

You can also use other types of non-dairy milk as substitues, like almond milk and oat milk. However, I do find that the vegan cream types gives the soup that extra full and creamy texture.

Add the cooked cauliflour that you removed earlier to the soup.

Garnish with fresh herbs like fresh parsley to add a splash of color when serving it.
Garnish with fresh parsley oil
You can see how I do this at the end of the recipe video below:

Set a few parsley leaves to the side.

Then add the rest of the fresh parsley to a mortar and grind until all of the parsley is crushed and juicy.

Add the crushed parsley to a small sieve that you hold over a small bowl, and use a teaspoon to squeeze the parsley against the sieve. The small bowl will be filled with fresh parsley juice.

Add the olive oil to the fresh parsley juice and mix.

Portion the soup into soup plates. Use a teaspoon to carefully drizzle some parsley oil over the soup. Then take a knife and run it carefully through the parsley. Add some small fresh parsley leaves for decoration.
Video