Easy Vegan Celery Root Soup

The spring has not yet fully begun (actually we just had another round of snow in Bavaria) and a bowl of hot soup is a perfect meal on these slightly chilly days. This celery root soup is a perfect and colorful meal to brighten up your days even more. It is an easy recipe to follow and works perfectly as a light lunch or main meal.
Celeriac / celery root is the star and main ingredient of this simple soup, and the proportions are just right to give a delicate flavor.
I am now in a period of experimenting wih different root vegetables – and love adding color to dishes using beetroot powder.
Garnish your Celery Root Soup like a Pro
Impress your next guests (or just yourself) with this creamy soup based on hearty root veggies. If you use beetroot powder to make half of the soup pink you can garnish some impressive bowls of soup. Beetroot powder is truly a perfect addition if you want a deep pink color to play with.
In the video below I show you how to garnish your celery root soup, playing with color and making beautiful and unique patters. Below the recipe card you can also find a video showing the whole process for following this celery root / celeriac soup recipe.
If you have leftover soup you can store this in an airtight container in your fridge.
If you love this recipe and you wish to enjoy more homemade soups you should try this pumpkin soup recipe or my creamy cauliflower soup. All of these soup recipes are easy to make and easy to beautifully garnish.
I hope you will try cooking this recipe the next time you are in the mood for a hot bowl of soup. If you make it I would love to hear from you, please give a star rating or write a comment to let me know what you think.
If you snap a picture, tag me on instagram @by.linaelisabeth – I look forward to seeing how your delicious soup turns out!
Enjoy <3 and have fun!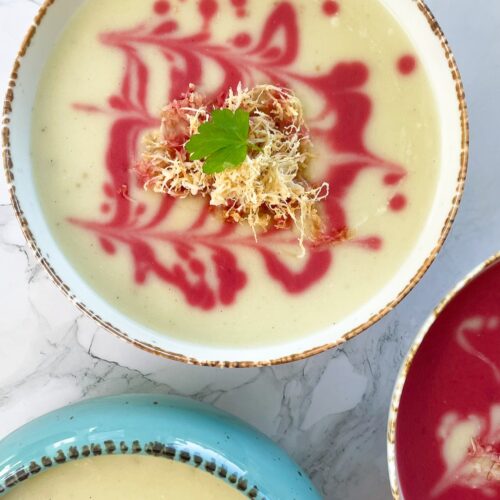 Easy Vegan Celery Root Soup
This celery soup / celeriac soup is a perfect and colorful meal to brighten up your days even more. It is an easy recipe to follow and works perfectly as a light lunch or main meal.
Ingredients
Soup
700

g

celery root / celeriac

peeled

2

large yellow onions

about 350-400 g in total

6

garlic cloves

2

small potatoes

about 100-120 g in total

2

tbsp

vegan butter

2

tsp

ground nutmeg

2

l

water

2

tbsp

vegetable broth powder

500

ml

vegan cooking cream

I prefer oat based

1

tsp

sea salt

a squeese of lemon juice to taste

juice of about half a lemon

2

tbsp

beetroot powder

optional - if you want half of your soup to be pink
Garnishing (optional)
150

g

celery root / celeriac

a thin slice of lemon

fresh parsley

or other fresh herbs
Instructions
Garnishing
Preheat your oven to 100 degrees fahrenheit (212 fahrenheit).

Take a chunk of 150 g peeled celery root and use a multi-purpose box grater to finely grate/shred it.

Cover a baking trey with parchment paper and spread the shredded celery root onto the parchment paper.

Bake in the middle of your oven for 40-45 minutes until dry.

While your garnishing is in the oven you can start to make the soup.

Once your garnishing is baked, let it cool down and set it to the side until you are ready to garnish and serve your soup.
Soup
Peel the celery root / celeriac

Use a sharp knife to roughly chop the celery root / celeriac, potatoes, yellow onion and garlic cloves

Taka a large pot, big enough to fit 5 liters (1.32 gal). Add 2 tablespoons of vegan butter to the pot and turn on the heat.

Once the butter has melted and is simmering add the onion and garlic and fry at medium-high heat for about 2-3 minutes.

Add the diced celeriac / celery root, potatoes and groud nutmeg and let it fry together with the onions and garlic for another 4 minutes. This gives the celery root and potatoes a slight roast - and gives your soup a rich flavor.

Add the water and ground vegetable broth, mix, and bring to a boil.

Let it boil on medium heat until the potatoes and celery root are tender. You know it`s ready when you can stick a knife into a chunk of celery root or potato without resistance.

Turn down the heat. Add the vegan cooking cream and teaspoon of salt. Then use an immersion blender to purè the soup completely. Take your time and purè until you get that desired consistency. The soup should have a smooth and creamy texture and there should be no chunks in the soup.

Add a squeese of lemon, mix and taste. If you wish, add more lemon and/or another pinch of salt to taste.

Optional - If you want half of your soup to be pink.

Pour half of the soup over into another pot and mix in 2 tablespoons of beetroot powder and mix.
Garnishing
You can garnish each portion with pink or white soup and make a great pattern, and/or simply garnish with your oven baked grated celery root, a slice of lemon, and fresh parsley (or other herb).
Video