Green Smoothie with Chia- and Flax Seeds (plant-based)

Looking or an easy way to eat healthy? Then starting the day with a delicious smoothie made with fresh fruit, vegetables and seeds is a great idea. This is actually one of the best green smoothies I know. When I make this I usually have it for breakfast, but it is also perfect as a light meal during the day.
This basic green smoothie is packed with healthy ingredients. The best part is that not only is a tasty way to enjoy your "5 a day", but it also gives you an energy boost. Using both fruits and vegetables together is a great way to give your smoothie sweetness, and in this way there is no need for any added sugars. Also, chia seeds and flax seeds are good sources of omega-3s, and the best way to make sure that we get most nutrients out of them is to grind them up. So what better way to do this than to throw them in a smoothie and let our powerful blender do the work.
Mornings can be hectic, and on days where they`re not, it is tempting to stay in bed just a liiiittle while longer. So, here`s a tip if you are planning to enjoy this as a healthy breakfast: make it in the evening and put it in the fridge for the next day.
Write down the ingredients for this simple green smoothie recipe on your shopping list, and make it the next time your are in the mood for a healthy, quick and tasty meal. If you make it, I would love to hear from you, please write a comment to let me know what you think. If you snap a picture, tag me on instagram @by.linaelisabeth – I look forward to seeing your healthy start to the day!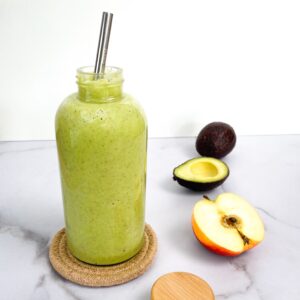 Green Smoothie with Chia- and Flax Seeds
Combining vegetables and sweet fruits is a great way to make tasty morning smoothies. This green smoothie recipe also includes some chia- and flax seeds to add those healthy omega-3s.
Ingredients
70

g

avocado

(½ avocado)

70

g

apple

(½ an apple)

150

g

honeydew melon

(¼ of a medium melon)

80

g

cucumber

10

g

ginger

peeled

100

g

broccoli

(weigh before boiled)

1

tbsp

chia seeds

1

tbsp

flax seeds

2

dl

water
Instructions
Boil the broccoli until tender (do not add any salt to the water).

If you have the time, let the boiled broccoli water cool down and use this as the added water in the recipe. This way you don`t have to let the nutrients in the water go to waste. The broccoli is also the ingredient that gives the smoothie that nice green color.

Roughly chop up the fruits and veggies and add them to your blender

Add the boiled broccoli, the chia seeds and flax seeds and the water to your blender.

If you have time to let it cool down you can use some of the water from boiling the broccoli.

Mix/blend until creamy and smooth.

If you like your smoothie a bit more liquid you can simply add more water or some apple juice.