Vegan Tzatziki Sauce with Coconut Yogurt 

A few summers ago we were vacationing on Mykonos – a beautiful Greek island. This was before I started eating completely plant-based, and so I loved going to the Greek restaurants and enjoyed a lot of authentic Mediterranean foods. With only a handful of ingredients, I am drawn to the simplicity of Greek cuisine and always on the lookout for a good alternative to the traditional dishes. So naturally, when going plant-based I needed to come up with a delicious vegan tzatziki recipe, and here it is.
I have tried making this vegan tzatziki sauce recipe with other dairy-free yogurt types such as soy yogurt and oat yogurt, but I find that the end result is better and a lot more like traditional tzatziki when you use vegan coconut yogurt, so I do recommend that you stick to this type.
Enjoy this vegan version of a tzatziki sauce with pita bread, grilled- or fresh vegetables or oven baked potatoes.

I hope you feel inspired and ready to make this the next time you are in the mood for something simple and healthy. If you make it, snap a picture and tag me on instagram @by.linaelisabeth – I look forward to seeing your dish!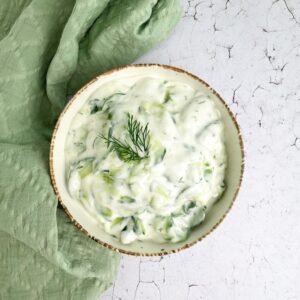 Tzatziki Sauce with Coconut Yogurt
With only a handful of ingredients, this vegan tzatziki sauce recipe with coconut yogurt is easy to make, fresh and tasty.
Ingredients
1

cucumber

1/2

solo garlic

3

tbsp

fresh lemon juice

about 1/2 lemon

400

g

coconut yoghurt

1

tbsp

fresh dill

1

tbsp

olive oil

1

tsp

sea salt
Instructions
Thinly slice the cucumber. To get the thin slices I use a multi-purpose box grater

Place the cucumber in slices a sieve (with a bowl under it), then add in the sea salt and let it drain for at least 30 minutes (getting out the excess water). Before you mix the cucumber with the other ingredients you can use your hands to squeeze out a bit more water.

Finely chop the garlic and dill and squeeze the lemon juice.

Add all ingredients together in a bowl and give it a good stir. Place the tzatziki in the fridge for at least 30 minutes to allow the taste of the fresh garlic and the herbs to come front and center.

Store any leftovers in an airtight container in your fridge.