Best Norwegian Crispbread (plant-based)

Are you looking for a crispbread recipe that is easy to make and that stands out in terms of flavor and crunchiness? Then you have come to the right place. This homemade sesame crispbread recipe is always a hit, and almost every time I serve it to someone new they ask for the recipe.
Norwegian crispbread is ultimately healthy homemade crackers (some also call it crispy hard bread) packed with different seeds, and is a staple in the Norwegian home kitchen. Growing up, we often had crispbreads with spreads or some other toppings for breakfast and lunch. Out of the many different versions of crispbread I have tried, this is the "keeper".
My mom is actually the one who started making this type of crispbreads in the family. Her "secret" ingredient (well, not so secret anymore) really brings the extra flavor and I have a suspicion that once you try this homemade crispbread recipe, you will be making it for a long time.
This is a really easy recipe that gives you 24 delicious crispbreads that you can enjoy over the next days.
Get ready for a delicious breakfast, lunch or snack with this crispbread recipe
Load your crispbread with avocado, tomatoes, onions, or any delicious bread spread you can think of. Try your crispbread with this delicious creamy pesto for breakfast or lunch, or the next time you are in the mood for a tasty and healthy snack.
You can most likely find a large variety of crispbreads in your local grocery store, but because homemade is in this case (as most often) much better and as it is also quite a basic recipe I really do encourage you to make your own crispbread.
I hope you make these the next time you feel inspired to bake something for lunch, brunch or breakfast. If you make them I would love to hear from you, please write a comment to let me know what you think. If you snap a picture, tag me on instagram @by.linaelisabeth – I look forward to seeing how they turn out!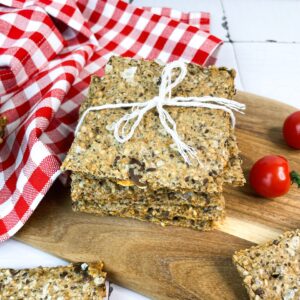 Best Norwegian Crispbread
These crispbreads are easy to make, healthy and super crunchy.
Norwegian crispbread is ultimately healthy homemade crackers (some also call it crispy hard bread) packed with different seeds, and is a staple in the Norwegian home kitchen.
Ingredients
90

g

oatmeal

rolled oats

150

g

all-purpose flour

60

g

chia seeds

60

g

sesame seeds

60

g

pumpkin seeds

30

g

flax seeds

30

g

sunflower seeds

100

ml

sesame oil

toasted/dark

600

ml

water

sea salt flakes
Instructions
Add all the dry ingredients to a large mixing bowl - except from the salt, we`ll save that for later. Mix the dry ingredients. It is important to mix the dry ingredients first to keep the chia seeds from clumping together.

If you want to make the crispbreads even more healthy, you can use whole wheat flour instead. I prefer the all-purpose flour for this recipe as I find it gives the best taste.

Add the water and the dark sesame oil to the dry ingredients and mix it well. The mixture is quite moist at this point, so, don`t freak out, the crispbread dough is supposed to be wet.

The toasted/dark sesame oil is the "secret" and special ingredient that really makes this recipe a winner.

Let the dough rest in the large bowl (room temperature) for 20 minutes. During this time the oatmeal and the seeds will absorb a lot of the liquid. At this point, the mixture has changed a lot since step 2, and it is no longer too wet (you can see the video below to get a feel for what the right consistency is). If you left the dough on the counter for too long, dont despair, just add a little water to get the right consistency.

The oatmeal and seeds help to soak up the water and oil to combine the mixture.

Set your oven to fan bake mode and preheat it to 160 degrees Celsius (320 degrees fahrenheit).

While your oven is heating up, take two baking trays and place one sheet of parchment paper on each.

Mix the ingredients once more before pouring the mixture evenly onto the two baking trays with the sheets of parchment paper. Use a fork to spread the mixture out evenly in a thin layer to the edges of the baking trays.

Now, lightly sprinkle some sea salt flakes over you crispbreads before placing them in the oven to bake.

There is no "right amount", but don`t be too generous with the salt or you may end up with crispbreads that are too salty. Less is more.

Set the timer to 6 minutes. When the alarm goes off it is time for you to perfectly shape your crispbreads. Take the trays out of the oven and slice the crispbread on each baking tray into 12 equal pieces with a pizza wheel or a knife.

Place the baking treys back into the oven and bake for another 55-60 minutes until the crispbreads are golden brown. If you need to add a few more minutes to the clock to get that nice golden color, please do so. And if your oven, like mine, has a mind of its own and it sometimes doesn`t work exactly like expected it can be a good idea to switch the positions of the trays every 15 minutes to make sure the crispbreads are evenly baked. If you are lucky enough to have an oven that works the way it should, there should be no need for this.

Finally, take the crispbreads out of the oven and place them on a cooling wire rack. Once cooled off "break" your crispbreads into 24 squares - this should be easy, breaking along the pattern that you made with your pizza cutter or knife earlier.
Video