Yummy Patatas Bravas (Spicy Potatoes) (plant-based)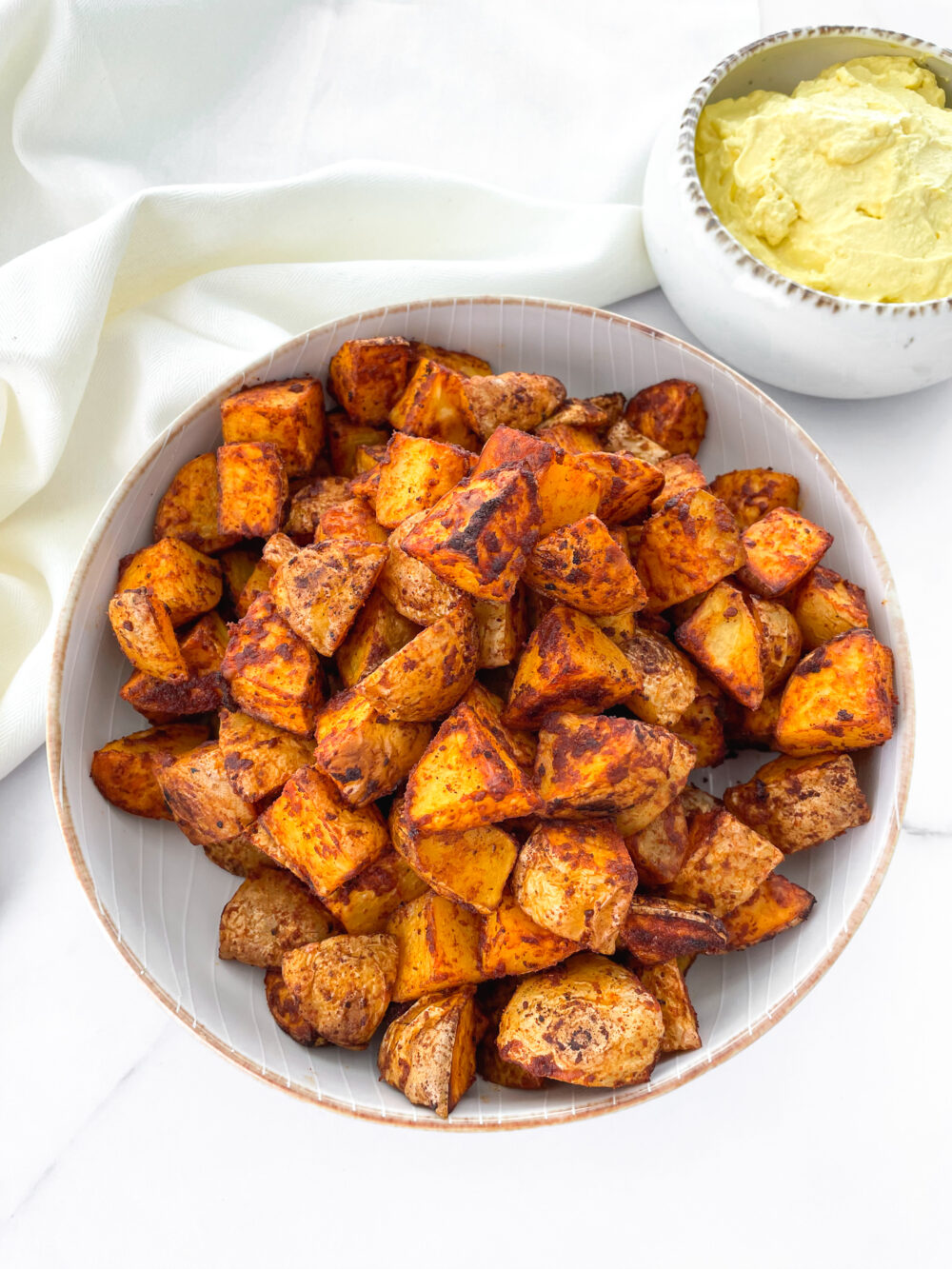 Are you a potato lover? Patatas bravas is one yummy and simple appetizer or side dish for a tapas table – or any table for that matter. The spicy potatoes are filling, delicious and so, so easy to make.
This homemade patatas bravas recipe goes perfectly with this vegan garlic aioli. The combination of the spicy potatoes with the creamy aioli is a dream – and to me it is the ultimate comfort food. I could eat this every day! The ground chilli powder makes sure the potatoes are spicy and cooking the potatoes on high heat in the oven makes them crispy on the outside. Just writing about it makes me a little bit hungry..
Prep the Potatoes to Avoid Stress
If you are cooking for a party and you have a lot of food to make, prepping is a good strategy. You can prep the potatoes hours in advance to avoid the stress of doing everything at once. To prep the potatoes, just chop them up, add them to a large bowl and make sure the potato cubes are covered in cold water. Place the bowl with the cut potatoes in your fridge. As the cut potato cubes for patatas bravas are relatively big in size you can store them in cold water for up to 8-12 hours.
Ready for more Delicious Recipes?
Serving small dishes is a perfect way to make sure that everyone has something they like. When cooking with my family I am always eager to come up with new vegan tapas recipes and side dishes – to make sure they go for the plant-based food first. If you are looking for more tapas recipes to be served on small plates I warmly recommend you try these creamy stuffed mushrooms. They are always a favorite. Or this super simple and fresh side dish with avocado and tomatoes.

I hope you are ready to make this delicious vegan version of patatas bravas. If you make it, snap a picture and tag me on instagram @by.linaelisabeth – I look forward to seeing your dish!
Yummy Patatas Bravas (Spicy Potatoes)
Are you a potato lover? Patatas bravas is the ultimate comfort food. This is one easy recipe for the spicy potato dish. Patatas bravas is filling and so, so yummy - and you can have it ready in only 35 minutes.
Ingredients
1000

g

potatoes

3

tbsp

sweet paprika powder

1

tbsp

ground chili powder

1

tbsp

sea salt flakes

4

tbsp

olive oil

extra virgin
Instructions
Preheat your oven to 200 degrees Celcius (392 degrees Fahrenheit), fan bake setting.

Peel the potatoes if necessary. Then, chop the potatoes into larger cubes (about 4 cm / 1.5 inches wide)

Add the chopped potato cubes to a large mixing bowl and add the remaining ingredients. Mix all the ingredients well so that all the potato pieces have oil and spice on them.

Cover a large baking sheet with parchment paper. Spred the potatoes out onto the baking trey/parchment paper. Make sure that the potaotes are spread out well, there should only be one single layer of potatoes.

Bake your spicy potatoes in the oven at 200 degrees Celcius (392 degrees Fahrenheit) for 25 minutes.

Take a knife and stick it into one of the potato pieces to make sure that they are baked all the way through. If not, bake them for another couple of minutes until the potato pieces are soft inside.