Easy and Quick Beetroot and Feta Salad

Enjoy a vibrant salad made with simple ingredients and a beautiful dark pink beetroot. This is a super easy recipe to follow. The sweet and earthy flavor of the beets paired with the creaminess and slightly salty taste of the feta cheese gives your salad bowl a perfect balance. 
This beet feta salad works perfectly as a light lunch or as a side dish on the tapas table.
If you want to impress your guests with something colorful then add a bowl of this beautiful salad to your lunch or dinner table. Or if you simply want to enjoy a colorful bowl of deliciousness for yourself this recipe is an excellent choice. 
Do you love red beets? You get two recipes in one beet!
If you love fresh beets you should try my beet latte recipe, another great recipe for any beet lover. In this recipe you will get leftover beetroot that you can use as the beets for this salad.
When making the beetroot latte you will blend and drain the beetroot. You can use the leftover beetroot in this salad instead of throwing it away – two delicious recipes in one!
The beets in the salad with be slightly drier, but it is super delicious. This is actually my favorite way of making this delicious salad, because I also get to enjoy a warm mug of pink latte 🙂 
Give this beet salad recipe your own twist
This beetroot feta salad is a super delicious bowl of healthy and yummy ingredients. If you want you can add your own twist to your salad bowl, feel free to get creative.
If you like more crunchiness you can add nuts like crunchy walnuts or pumpkin seeds.
As it sais on the recipe card you choose the salad of your choice, so here you can get creative. I personally love lamb`s lettuce and butterhead lettuce. These salad types are mild and soft. But choose the one you like most. You can also add other leafy greens such as baby spinach to your salad bowl.
If you have any leftovers (which I seriously doubt 🙂 ) you can store these in an airtight container in your fridge overnight and enjoy them the next day. 
I hope you make this delicious beet salad with feta cheese the next time you are looking for new salad recipes. If you make it I would love to hear from you, please give a star rating or write a comment to let me know what you think.
If you snap a picture, tag me on instagram @by.linaelisabeth – I look forward to seeing how your beet salad turns out.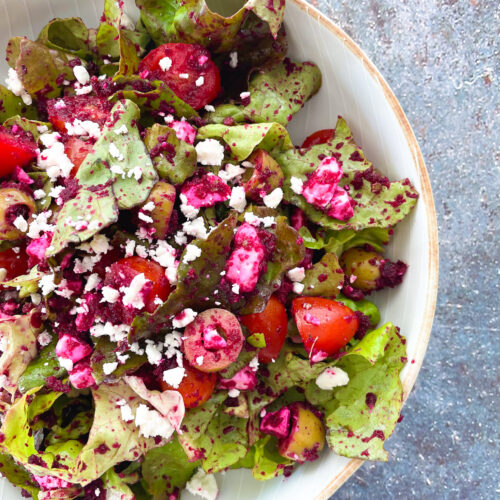 Easy and Quick Beetroot and Feta Salad
Enjoy a vibrant salad made with simple ingredients and a beautiful dark pink beetroot. This beetroot and feta salad works perfectly as a main dish or a side salad. 
It is super easy and quick to make. 
Ingredients
70

g

salad of your choice

my suggestion: Lamb`s lettuce / corn salad or butterhead lettuce

10

cherry tomatoes

½

raw beetroot

10

olives

lemon juice

of ¼ lemon

1

tbsp

olive oil

extra virgin

1

tbsp

white wine vinegar

1

tsp

dried oregano

50

g

feta cheese
Instructions
Roughly chop the salad and add it to a large bowl (or two serving bowls).

Cut each of the cherry tomatoes in two and add to the bowl with the salad. 

Wash the raw beetroot. Then roughly grate the red beet using your multi-puropose box grater. Add the grated beetroot to the salad bowl. 

​If you have made my delicious beetroot latte recipe, then you can use the leftover beetroot from this recipe in your salad. This way, the beets in your salad are a little bit drier. 

Cut the olives in two. Then add the olives, fresh lemon juice, olive oil, white wine vinegar and oragano to the salad bowl and mix. 

Finally, crumble the feta cheese with your hands and spread it on top of the salad.