Easy and Crispy Oven Baked Potato Chips (plant-based)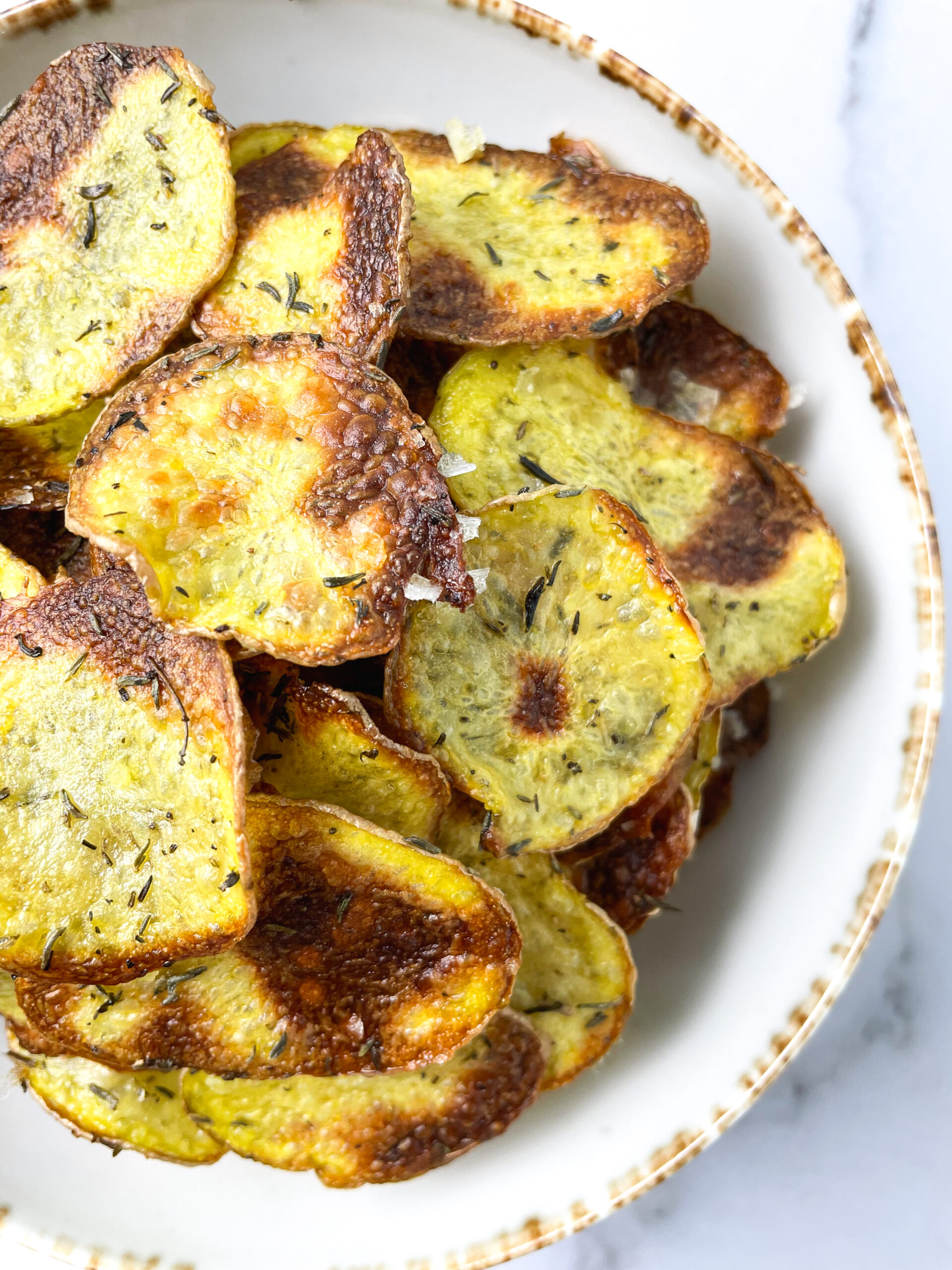 Homemade baked potato chips in less than 20 minutes – yes please! When you are in the mood for a last minute snack and all you have in your cubbords are a few potatoes, don`t despair, now you have an easy and great recipe for homemade chips at hand. With only four simple and familiar ingredients you can make your own potato chips as a healthier alternative to the commercial potato chips you find in your local store. This recipe gives you delicious golden brown and crispy chips. The potato chips are oven baked, so this also limits the amount of oil you would need for, let`s say, deep frying.
By using waxed potatoes you can be sure that the shape of the potato chips stay intact when baked. This is because of their excess moisture / lower starch content.
If you wish to experiement with flavors you can also use different herbs – I prefer thyme for a classic potato chips recipe. For dipspiration I love dunking my chips in vegan sour cream.
This recipe has saved me a couple of times when I have been in the mood for a taste of junk food, and all I had were some boring potatoes. I hope it can do the same for you. I will keep experimenting with different flavors, but this simple combo is definitely one I come back to now and then, it`s simply delicious.
Try this healthy potato chip recipe the next time you are in the mood to induldge. If you make it them would love to hear from you, please write a comment to let me know what you think or if you have some good tips on other spice mixes. If you snap a picture, show me your end result by tagging me on instagram @by.linaelisabeth – I look forward to seeing how your homemade potato chips turn out!
Easy and Crispy Oven Baked Potato Chips
Make your own crispy potato chips in less than 20 minutes - with only four simple ingredients there are easier and healthier ways to indulge than reaching for the commercial snacks at your local store.
This recipe gives you a small bowl of delicious golden brown and crispy chips.
Ingredients
250

g

potatoes (waxed)

about 2 medium potatoes

3

tbsp

extra-virgin olive oil

1

tbsp

thyme spice

sea salt flakes
Instructions
While you prepare the potato chips, preheat your oven to 200 degrees celcius (392 degrees fahrenheit), fan bake setting.

Use a potato peeler or a mandoline slicer to slice the potatoes really thin. If you don`t have either of these at hand you can also use a sharp knife. If you use a knife make sure to watch the thickness of the potato slices, the slices should be so thin that they bend and are almost see-through.

Add the thin slices of potato to a small bowl. Add in the olive oil and thyme and mix well. The recipe gives you just enough oil to make sure that both sides of the potato slices have oil and spice on them.

Spread the sliced potatoes covered in oil and herbs on two baking treys covered in parchment paper. Make sure that the potato slices are lying in a single layer, the potato slices should not be lying on top of each other.

Bake in the oven for 9 minutes until the chips are golden and crispy. Keep a close eye on the potato chips during the last two minutes of the baking time, to make sure that they dont get over-baked.

The potato chips cool down really fast in room temperature - and they are also delicious if you eat them right away, while hot.