Fig & Date Energy Balls with Orange and Salted Cashews (plant-based)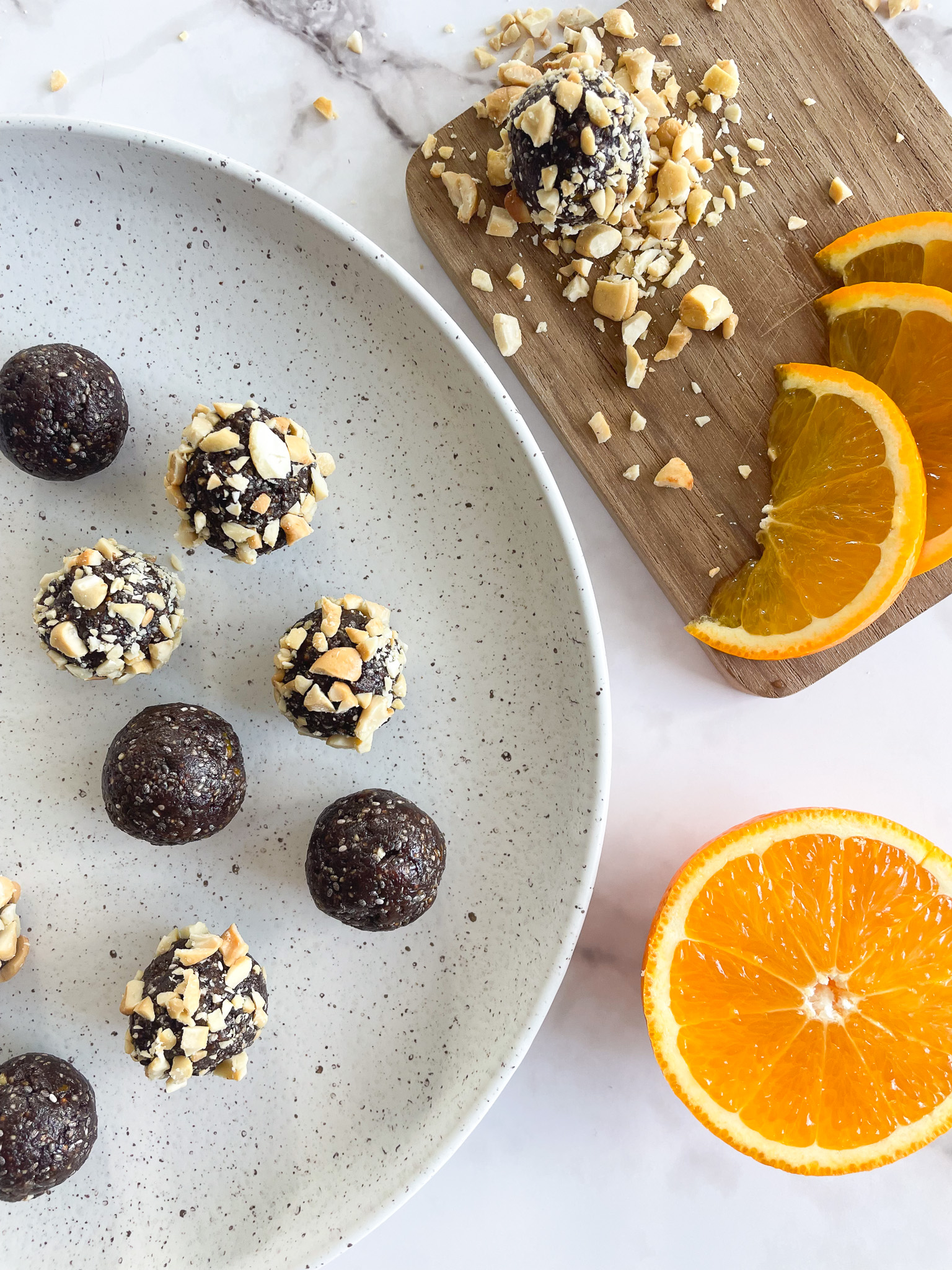 If you love orange chocolate you will love, love, LOVE this recipe! These healthy fig and date energy balls are super quick and easy to make. The combination of dates and figs give these energy balls a nice chewy texture. And with natural sugars, this recipe offers you a healthier way to feed your sweet tooth.
​The smell and taste of orange chocolate always reminds me of Christmas. It`s a bit too early for that now! BUT as the cold weather is on it`s way and "winter is coming" I am looking forward to cozying up on the couch with a good audio book, this yummy and great snack, and my crochet hook. It feels wrong to say as a summer-person, but I am actually not dreading the cold this year.
This recipe gives you about ten engergy balls, so if you want to stock up on these delicious little treats, then you can easily double or tripple the recipe. You can freeze the energy balls to be sure you always have some at hand. If you do not freeze them then the best way to store them is to have them in an airtight container in your fridge.
Make these Fig and Date Energy Balls in only 15 minutes!
The no-bake energy bites are made with a few simple ingredients. The full list of ingredients and simle instructions are shown in the recipe card at the bottom of this page. And in this video, I show you how truly quick and easy it is to make these healthy snacks:
If you liked or LOVED these fig and date balls, and you are looking for more energy ball recipes, then you should absolutely try my recipe for these coconut-packed ones! This recipe is also made with nuts and seeds for that great texture and healthy fats.
I hope you make these date and fig energy balls the next time you want to calm your sweet cravings with a healthy treat. If you make them I would love to hear from you, please give a star rating or write a comment to let me know what you think.
If you snap a picture, tag me on instagram @by.linaelisabeth – I look forward to seeing how your date and fig balls turn out!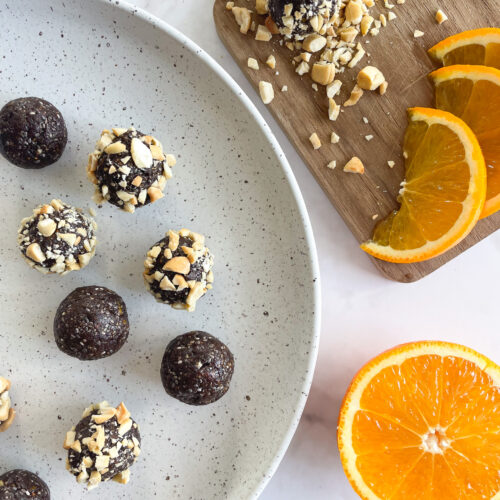 Fig & Date Energy Balls with Orange and Salted Cashews
Are you in the mood for healthy orange chocolate? Then this must be the perfect recipe for you. With healthy seeds, nuts and natural sweetness these fig and date engergy balls make for the perfect snack!
They are super easy and quick to make, and will let you satisfy your sweet cravings in a healthy way.
Ingredients
40

g

salted and roasted cashew nuts

2

dates

pitted

4

whole dried figs

1 ½

tbsp

baking cocoa / cocoa powder

1 ½

tbsp

chia seeds

1

tbsp

fresh orange zest

½

tbsp

orange juice

freshly squeezed

½

tbsp

maple syrup
Topping (optional)
salted and roasted cashew nuts

chopped
Instructions
Add the salted and roasted cashew nuts to your nutriblender/food processor and blend for about 10 seconds until the nuts are relatively powdered.

Prepare your orange zest using the mid-size (finer) grate holes on your multi-puropose box grater to grate enough peel off your orange to fill one tablespoon.

Add the dates, figs, baking cocoa/cocoa powder, chia seeds and fesh orange zest to the bowl/container with the powdered cashew nuts.

Use your nutriblender/food processor to pulse/blend the ingredients until they are well mixed.

Squeeze the orange juice from the orange where you got the orange zest.

Add the blended ingredients to a baking bowl. Add freshly squeezed orange juice and maple syrup to the rest of the ingredients and mix well using a spoon or fork.

Take about a non-topped tablespoon of dough and shape it into a ball form using your hands.

For me, this recipe makes 10 energy balls, but if you like your treats smaller or bigger then make them the perfect size for you.

Enjoy the energy balls right away or add them to an airtight container and place them in the fridge for at least 2 hours.

If you let them cool down in the fridge you allow time for the chia seeds to soak up some of the moisture and become softer, and the energy balls will also get a firmer texture when they are cold.

If you wish to make your energy bites look even more appetizing, you can roll them in chopped cashew nuts (salted and roasted) right before serving them.
Video