Super Easy Vegan Cinnamon Rolls Recipe (kanelboller)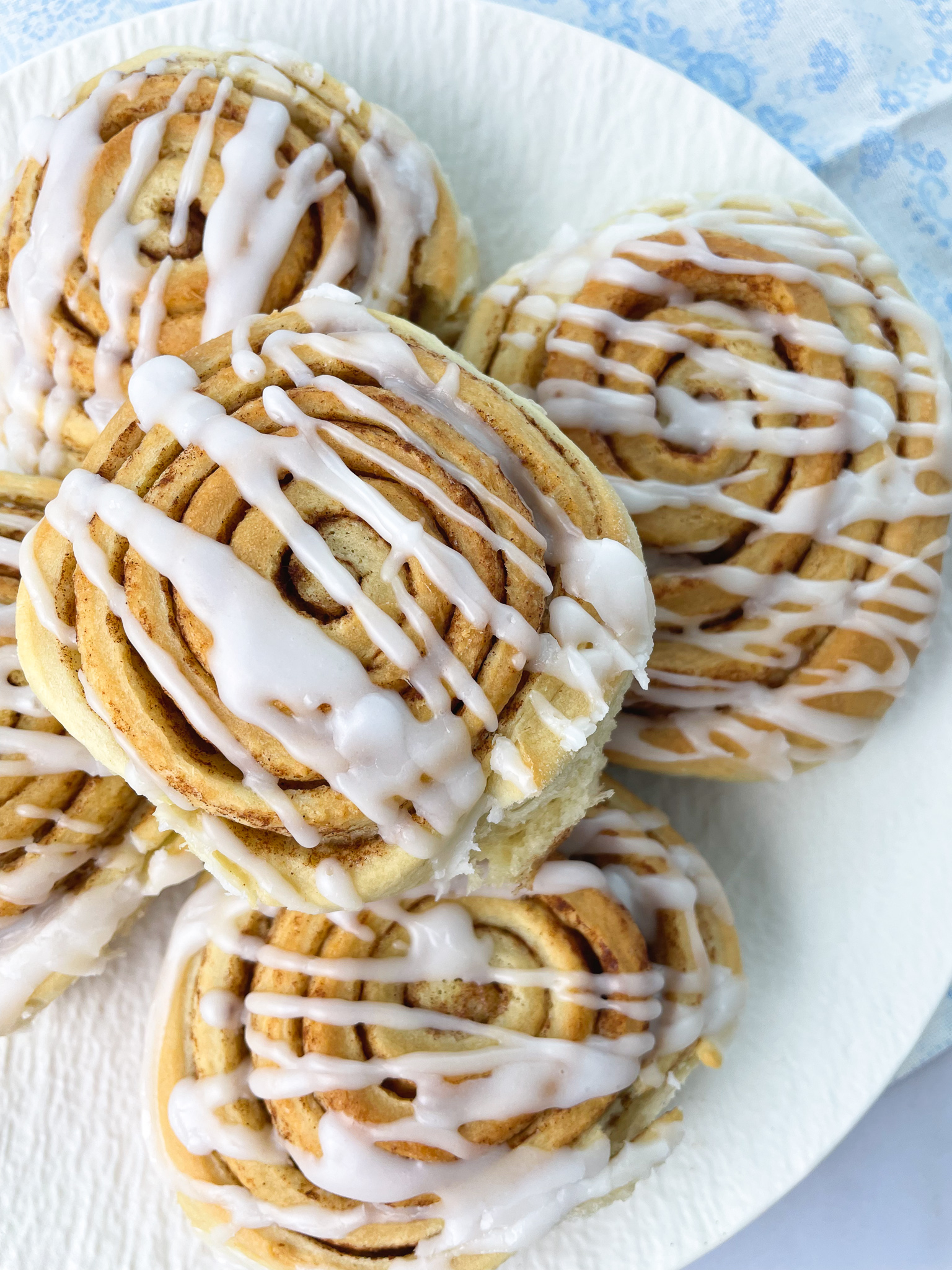 If you have guests coming over for a special occasion, or you are simply in the mood to add a little bit of sweetness to your day, then this is the perfect recipe! These vegan cinnamon rolls are so goooood!
Close your eyes and imagine the sweet smell of freshly baked, golden brown cinnamon buns. I get tempted just writing about this. I am so in the mood for these delicious vegan cinnamon rolls that I will in fact bake them tomorrow 🙂
They have an amazing fluffy texture, and are absolutely delicious and absolutely easy to make.
If you are not a big fan of kneading you can use your kitchen machine
If you do not have fresh yeast, I`m sure you have some dry yeast hidden away somewhere in your cubbords. It is amazing how I always seem to have this hidden away without effort.
And if you are baking cinnamon rolls for the first time, let me help you! Simply watch the recipe video below to see how easy it is. By no means do you need to be an experienced baker to pull this off.
Make your Cinnamon Rolls using a Kitchen Machine / Stand Mixer
Follow steps 1-6 on the recipe card, and use the bowl of a stand mixer / kitchen machine and your dough hook attachment when mixing the ingredients. Also, let the dough rise in this bowl.
For step 7 on the recipe card, this is where you get away easy. Once the dough is finished rising for the first time, add a little bit of flour to the dough and let the machine do the kneading on low speed for about 5 minutes. From step 8 and onwards this is where you need to start working with your hands. But hey, the hard work is done and now the fun part begins. Pour your dough out on a floured surface and get rollin`.
You can make this Recipe using Instant Yeast
If you do not have fresh yeast then you can make this recipe using dry instant yeast. To make this recipe using instant yeast, simply replace step 3. – 5. on the recipe card with the following:
New 3: Add the dry yeast, sugar, flour and salt to a large mixing bowl and mix.
New 4 & 5: Add the melted butter and oat milk mixture to the bowl with the dry ingredients and mix well.
Good job! Now, continue on from step 6 in the recipe.

If you have any leftover cinnmon buns (which I seriously doubt 🙂 ) you can store these in an airtight container on your kitchen counter. They taste just as good the next day. Or, you can freeze them for a later treat.
If you loved this recipe, then make sure to also try out my recipe for fluffy vegan vanilla buns.
I hope you will try baking these vegan cinnamon buns the next time you are in the mood for something sweet. If you bake them I would love to hear from you, please give a star rating or write a comment to let me know what you think.
If you snap a picture, tag me on instagram @by.linaelisabeth – I look forward to seeing how your homemade cinnamon rolls turn out!
Enjoy <3 and have fun!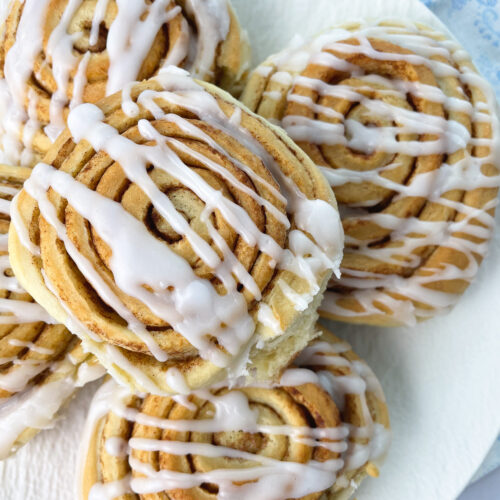 Super Easy Vegan Cinnamon Rolls Recipe (kanelboller)
Imagine the warm sweet smell of homemade cinnamon rolls... yes, yum! This super easy recipe gives you about 18 delicious vegan cinnamon buns.
They are fluffy, sweet and fill you with happiness.
Ingredients
150

g

vegan butter

400

ml

oat milk barista edition

you can also use almond milk or soy milk as substitutes

50

g

fresh yeast

80

g

sugar

670

g

all purpose flour

and more for the kneading process

a pinch of salt
Cinnamon Sugar Filling
100

g

vegan butter

soft

30

g

sugar

ground cinnamon

to drizzle generously
Icing Sugar Topping (optional)
Instructions
Melt the butter in a pot.

Once the butter is melted add in the milk. This mixture should be around 37 degrees celcius (neutral). You can pour a few drops on the inside of your writst to check for the perfect temperature. Set to the side.

Add the fresh yeast to a large mixing bowl. Then add the warm milk and butter mixture and mix untill the yeast has dissolved.

Add the sugar to the large bowl with the yeast mixture and mix.

Add the flour and salt to the baking bowl and mix.

Once mixed it is time to let your dough rise for the first time. Place the bowl with the dough in a warm spot, covered with a kitchen towel, for 30 minutes (I place it in the sink with luke warm water). The dough should double in size.

Spread some flour on a baking surface and pour the fluffy dough onto the flour. Knead the dough for about 5 minutes, adding additional flour generously while kneading. For the final 1-2 minutes of kneading you should not need to add any more flour to the dough. The dough is now firm, and not sticky, but moist.

Flour your work surface and make sure you have quite a bit of space to roll out your dough. Roll the dough out into a large rectangle using a rolling pin.

Get the ingredients for your cinnamon sugar filling. Use a spoon or spatula to evenly spread out the butter over the square of dough. Sprinke evenly with cinnamon and white sugar.

Now, carefully roll the dough up, and make sure to place the seam-side down once it is rolled together. Take a sharp knife and cut your role into about 18 buns. If you have dental floss I recommend you use this to cut the buns instead - it gives you an easy and perfect cut. See the recipe video to see how it`s done.

Place the cut cinnamon rolls onto a baking trey covered in parchment paper.

Now it is time to let your dough rise for the second time: place the trey with the cinnamon buns in a warm place and cover it with a kitchen towel. I tend to fill my sink with warm water and place the trey with the buns over the sink (not touching the water). Let the buns rise for 15-25 minutes.

While the buns are rising, preheat your oven to 200 degrees celcius (392 fahrenheit).

Bake the buns in the middle of your preheated oven for 12-15 minutes.

Take the buns out and place on a cooling rack and let them cool down in room temperature.

Optional topping: Once the buns have cooled down, take a medium bowl and mix the powdered sugar with some water to get the right consistency for your icing sugar (be careful not to add too much water at once, you may need less than you think). Pour some of the glazing onto each bun. Let it sit for at least 15 minutes.
Video