Easy and Quick Homemade Aioli (vegan)

Aioli on everything please! No, but seriously this is one delicious vegan aioli recipe. Made with only a handful of basic ingredients – including fresh garlic of course – this is one easy recipe to follow and this homemade aioli (I would argue) is better than traditional aioli.
Make it Yourself – in no Time
I had a really hard time finding a decent vegan aioli sauce in my local grocery store. There were quite a few vegan versions that tasted ok but I`m not impressed when I look at the ingredients list and don`t know them all. As aioli is so easy to make yourself, requires only a few simple ingredients, and takes less than 10 minutes to make I really see no need for the store bought versions. I used to buy aioli (very rarely) until my little sister told me how easy it was to make the real thing. Now, I only make homemade aioli – and more often than I`d like to admit..
If you are making aioli for the first time, be aware of how fast you add in the oil. We want the aioli to have a creamy texture and to achieve this we have to be a bit careful during the mixing process. This is explained in the instructions on the recipe card.
Garlic Please
For us garlic lovers, this is one perfect spread or dip. It has lots of garlic flavor and brings your food to the next level. This aioli is a perfect match with so many foods. I love dipping fried vegetables, french fries, baked potatoes or bread in aioli or adding it as a sauce to veggie burgers.
If you do not eat it all, make sure to store your creamy dip in an airtight container in the fridge.

I hope you feel inspired and ready to make this easy vegan garlic aioli. If you make it, snap a picture and tag me on instagram @by.linaelisabeth – I look forward to seeing your garlic dip!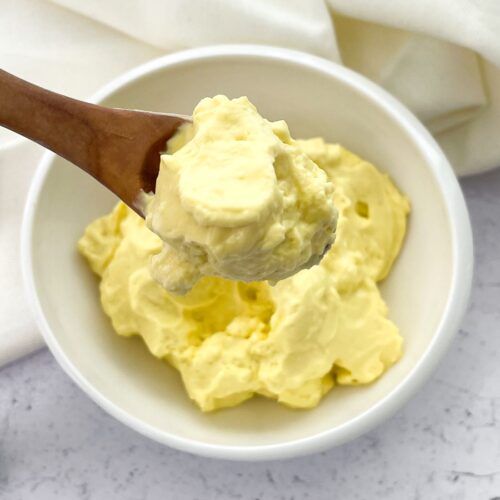 Easy and Quick Homemade Aioli
Aioli on everything please! No, but seriously this is one delicious vegan garlic aioli recipe. With only a handful of ingredients this is an easy recipe to follow.
Ingredients
50

ml

soy milk

unsweetened

1

garlic clove

1

tsp

white wine vinegar

½

tsp

salt

150

ml

rapeseed oil
Instructions
Add the soymilk, salt, raw garlic and white wine vinegar to a small bowl (with high edges).

Use an immersion blender to blend the ingredients for about one to two minutes.

Continue to blend the ingredients with your mixer while slowly pouring the rapeseed oil into the bowl with the rest of the ingredients. Be careful not to add too much oil at once.

Adding too much oil at once in the beginning of this mixing process can result in the oil not thickening properly and in the aioli getting a "saucy" consistency - and we don`t want that.

Blend for an additional 1-3 minutes until you get the desired thickness. The aioli should have a creamy consistency.