Creamy Vegan Peanut Butter Sauce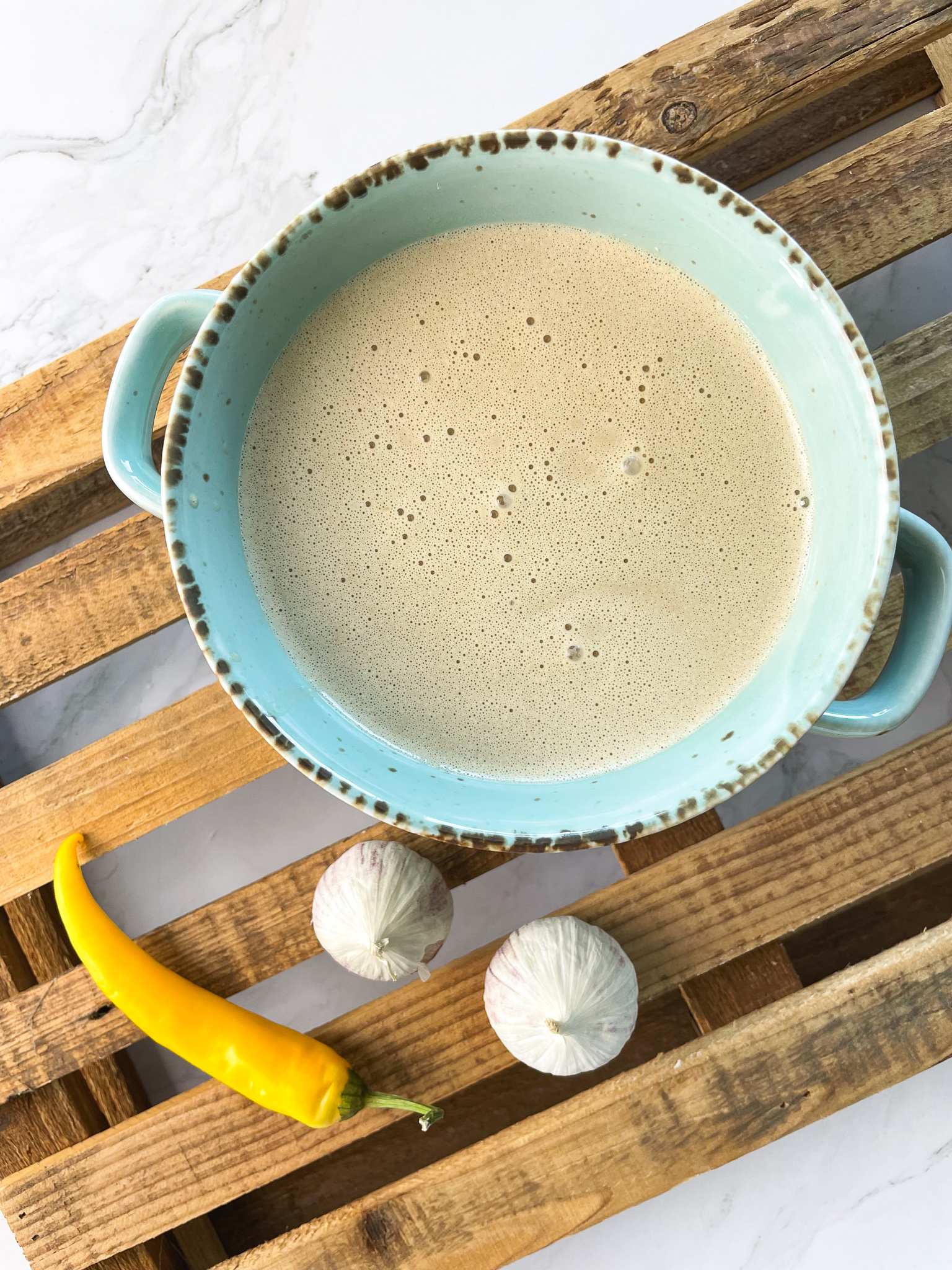 A great recipe for hot dinners or cold lunches – and it`s perfect for meal prep! This creamy peanut butter sauce is made with basic ingredients and ready in less than 20 minutes. Made with fresh chili it is a slightly spicy sauce. And the vegan cooking cream gives it that silky texture and tones down the chili and garlic.
Serve it hot over rice noodles and wok-fried veggies like red bell peppers and broccoli, or use it as a cold dressing over veggie bowls.
As you see on the recipe card you can use both crunchy as well as smooth peanut butter. Just make sure you use natural peanut butter. This means using high-quality peanut butter made from only peanuts, and maybe some sea salt. I know I`ve said "peanut butter" way too many times… From this paragraph it should be pretty clear that if you have a peanut allergy this is not a recipe for you 🙂 I just want to encourrage you to use the least industrial version with the least amount of ingredients. Have a look at the ingredients list on some of the peanut butters the next time you are grocery shopping. Then you`ll know what I mean.
Good News! This Peanut Sauce Recipe is Perfect for Meal Prep
Prepping is my thing. If I can prep a meal ahead of time – I most likely will (if I am not coming up with dinner ideas spontaneously).
Whether you are serving this peanut butter sauce hot or cold it is a good idea to prepare it ahead of time. If you are serving it hot, simply heat up the sauce before the meal. If you are serving it cold, well then you don`t really have to do much after it`s been prepared. Well, except from storing it in a box in your fridge.
I served this sauce as a salad dressing with this healthy and easy bulgur salad bowl for my last family birthday. I served a mini-buffet dinner and quite a few dessert options (all vegan of course) for 10 people + 2 kids. And prepping really saved me.

I hope you feel excited to make this spicy peanut sauce the next time you are in a hurry to make something good. If you cook it I would love to hear from you, please give a star rating or write a comment to let me know what you think.
If you snap a picture, tag me on instagram @by.linaelisabeth – I look forward to seeing what you serve your sauce with!
Creamy Vegan Peanut Butter Sauce
This vegan peanut sauce recipe is perfect for lunch as well as dinner - hot or cold.
Made with simple ingredients and in less than 20 minutes, this is one easy peanut sauce to make - and one you can enjoy often.
Ingredients
1

solo garlic

about 8-10 g

6

g

yellow chili

200

ml

water

200

ml

vegan cooking cream

e.g. cooking cream from oatly

2

tbsp

coconut sugar

2

tbsp

peanut butter

both creamy or crunchy peanut butter works

2

tbsp

soy sauce

¼

tsp

sea salt
Instructions
Start by finely chopping the fresh garlic and yellow chili.

Add all of the ingredients to a small/medium pot.

Heat the sauce up on low heat to medium heat. Stir occasionally to make sure that all the ingredients are mixed well.

Once hot, let your sauce simmer on low- to medium heat for 10 minutes. Stir ocassionally. Note that your sauce should be simmering lightly - not boiling.

When done, use a food processor like a hand blender or a nutriblender to make your sauce creamy (cutting up the small pieces of chili and garlic and blending it even more into the sauce).

You can serve your sauce hot or cold, depending on your meal.

Use it hot in a noodle bowl or over cooked veggies and rice. Or use it cold over cold veggie bowls or salads for lunch.

If you are serving your sauce cold (or you have leftover sauce), simply let it cool down in room temperature and store in an airtight container in your fridge.