Best Vegan Pesto Pasta Salad

Are you in the mood for pasta coated in a creamy, fresh homemade pesto, with sun-dried tomatoes and juicy cherry tomatoes? This delicious recipe is made with a handful of ingredients – all staples in any plant-based kitchen.
Nutritional yeast is a key ingredient in the vegan pesto recipe as it gives that ("the little extra") flavor of parmesan cheese.
This easy vegan pesto pasta salad works as a perfect side dish or a great main course – either for lunch or dinner. If you have it for dinner I recommend eating it warm, and if it`s a lunch it can also be enjoyed cold. If you are going to eat it cold, let the pasta cool down in room temperature before mixing it with the rest of the ingredients. This gives you the best result for a cold pesto pasta salad.
Bring a Cold Pesto Pasta Salad to the Office
If you are looking for plant-based recipes to bring to the office, this is the perfect work lunch. Just pack it in an airtight container and bring it with you in the morning.
When I am at the office I do have to bring my own lunch (as I don`t have daily lunch money in my budget). And this is one of the dishes I tend to bring quite often. You can make it with whole wheat pasta to make it healthier. A good idea is to make your pasta salad in the evening so you have ready-made lunch for the next day (and the day after that..).
I hope you feel ready to try this vegan pesto pasta recipe. If you make it I would love to hear from you, please give a star rating or write a comment to let me know what you think. If you snap a picture, tag me on instagram @by.linaelisabeth – I look forward to seeing how it turns out!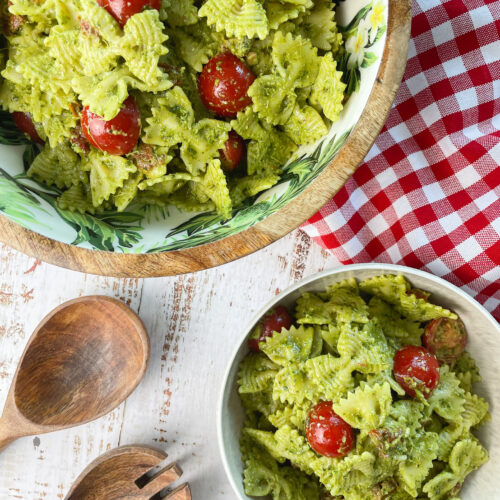 Best Vegan Pesto Pasta Salad
You make your own homemade pesto in just a few minutes, boil some pasta, chop a few juicy cherry tomatoes and sun-dried tomatoes and mix. That`s it. The dish can be enjoyed hot and cold - for dinner or for lunch, or whenever you`re feeling hungry 🙂
This is one easy recipe for a good pasta salad - delicious actually!
Ingredients
200

g

cherry tomatoes

10

sun-dried tomatoes

about 80 g

500

g

pasta of your choice
The Pesto Sauce
100

g

pine nuts

80-100

g

fresh basil

about two store bought plants. You can use the basil leaves as well as the stems

½

solo garlic

25

g

nutritional yeast

50

ml

lemon juice

a pinch of salt

50

ml

olive oil

extra virgin
Instructions
First, prep the pesto ingredients:

Roast the pine nuts in a pan on low heat until golden, this brings out the nutty flavor.

Roughly chop the garlic.

Squeeze the lemon juice.

Bring a large pot of water to a boil. Add a pinch of salt and your pasta. Boil your pasta on medium heat following the package directions. If you wish to make the recipe healthier you can use whole wheat pasta or chickpea pasta.

While your pasta is boiling, make your pesto and prep the rest of the ingredients (if you are using chickpea pasta keep an extra eye on the timer as this type does not boil for as long as regular pasta).

Add all of the pesto ingredients - except the olive oil - to a large bowl and use a hand blender (or other type of food processor) to mix the ingredients until creamy. Then, add the olive oil and use a spoon or a spatula to mix it in. Set your pesto sauce to the side.

Chop each cherry tomato in two.

Roughly chop the sun-dried tomatoes (if you did not buy them chopped). If you use sun-dried tomatoes from a glass with oil, place the sun-dried tomatoes on two sheets of kitchen paper and let the kitchen paper absorb some of the oil before you add the sun-dried tomatoes to the salad.

When your pasta is done boiling, pour the pot of pasta and water through a colander placed in your sink to drain off the water.

I prefer the pasta slightly al dente - if you do not, boil it to your preferences.

Add the cooked pasta, pesto sauce, sun-dried tomatoes and cherry tomatoes to a large mixing bowl and mix well.

Enjoy your delicious pesto pasta salad hot or cold.
Video