Easy Vegan Bulgur Salad with Peanut Sauce

How about a fresh, fruity, filling and healthy salad? If yes, then you have come to the right recipe! This vegan bulgur salad is made with fresh fruit, veggies, nuts and bulgur – a yummy and simple way to eat healthy. I am clinging on to the summer and so I keep making this from time to time to keep myself in that sunny mindset.
Serve this amazing meal to guests, enjoy it as a healthy lunch, or take it with you to the park for a summer picnic. Eating healthy foods should be simple. And for me recipes like this are key!
Bulgur is a Perfect Ingredient
Bulgur is of course a main ingredient in this salad. As it is made from the whole grain of the wheat it is a filling addition to many meals. It has a slightly nutty flavor, has a more chewy texture, and contains more fiber than couscous. Also, bulgur has more nutrients than both white rice and couscous. This, I find, makes it the better (and healthier) choice for salads and dinners.
Add bulgur for a healthy lunch, side dish or light dinner. Combining it with fresh veggies and fruit, like in this recipe, makes it a perfect meal for the summer months.
It`s Prep-able! Prepare your Vegan Bulgur Salad Ahead of Time
As you know by now, I am a big fan of meal prep! And this salad recipe is a perfectly prep-able dish. I usually prep this bulgur wheat salad this way:
The day before you serve It you can…
Make the peanut butter sauce. And then simply heat it up the next day.
Cut the mango and spring onion and keep them in the fridge in seperate boxes over night.
Roughly chop the cashew nuts and keep them in a small bowl on the kitchen counter. The only danger here is that you might snack on them (and need more).
On the day of serving you…
Cook the bulgur whenever you have time and let it cool down in room temperature. Put a lid on the pot once the bulgur is cold.
Roughly chop the cilantro leaves and keep it in a small box in the fridge (optional ingredient).
Half an hour before it`s time to serve your dish, take the mango and spring onion out of your fridge and heat up the peanut butter sauce on low heat. Cut the creamy avocado as you are putting the salad together. This way you make sure it does not turn brown before serving time.
I Served this Bulgur Salad (Among other Dishes) for my Whole Family – and They Loved it!
Meal prepping has saved me a lot of stress! I just celebrated my 33rd birthday with my family back home in Oslo, Norway. I wanted to only cook vegan food to show them (once again) that a plant-based meal with a vegan dessert would leave them feeling full and satisfied. I really overdid it and it is the first time I have made this much food for one party. And it was a hit! One of the dishes I made was a big batch of this delicious salad.
I had so many dishes to prepare. In addition to the bulgur salad, I made:

…and for dessert I baked a lot of different cookies, buns and energy balls.
As you can see from the list I had a LOT to do (in just two days), and my meal prep strategy totally saved me.

I hope you feel ready to try this delicious bulgur salad. If you make it I would love to hear from you, please give a star rating or write a comment to let me know what you think.
If you snap a picture, tag me on instagram @by.linaelisabeth – I look forward to seeing how it turns out!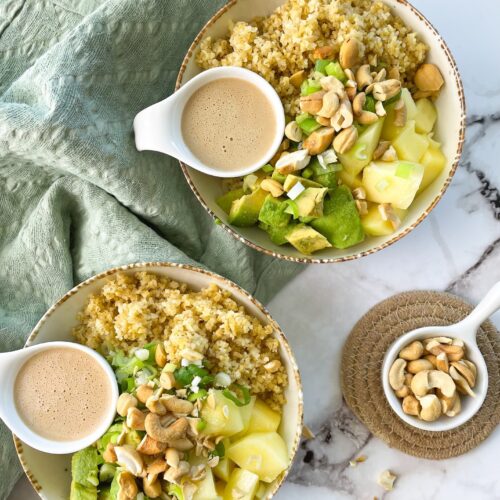 Easy Bulgur Salad with Peanut Sauce
This vegan bulgur salad is made with fresh fruit, veggies, nuts and bulgur. And it is served with a creamy peanut butter sauce - a yummy and simple way to eat healthy!
Ingredients
Bulgur Salad
100

g

bulgur

200

ml

water

½

mango

1

avocado

1

spring onion / scallion

50

g

cashew nuts

roasted and salted

1

handful cilantro leaves

(optional) or other herbs like fresh parsley
Peanut Sauce
½

solo garlic

about 8-10 g

3

g

yellow chili

100

ml

water

100

ml

vegan cooking cream

e.g. cooking cream from oatly

1

tbsp

coconut sugar

1

tbsp

peanut butter

1

tbsp

soy sauce

a pinch of salt
Instructions
First, cook the bulgur by adding the bulgur and water to a small pot (with the lid on) and bringing it to a boil. Let it boil lightly on medium heat for about 15 minutes, or until all the water has been absorbed by the bulgur. Set to the side.

Now, make the peanut butter sauce. Finely chop the garlic and yellow chili. Then, add all of the ingredients for the sauce to a small pot. Heat it up on medium heat and let the sauce simmer lightly for 10 minutes. Stir occasionally.

While the sauce is simmering, prep the remaining ingredients:

Peel half a mango and cut it into cubes (about 2x2 cm).

Cut the avocado into cubes (about 2x2 cm)

Finely chop the spring onion.

Roughly chop the cashew nuts.

Roughly chop the cilantro (or other fresh herbs of your choice) if you include it in your dish.

When the peanut butter sauce has simmered for 10 minutes, use a hand blender to make the sauce even creamier (cutting up the finely chopped garlic and chili pieces even more).

Now it is time to put your dish together. Plate up any way you want and serve the warm peanut butter sauce on the side.

If you serve the bulgur salad in a large bowl for people to help themselves, I recommend you layer the salad ingredients in this order: cooked bulgur, avocado, mango, spring onions, and then cashew nuts (and cilantro/fresh herbs).

I find that layering the ingredients in this order makes the colors pop the most.