Easy, Quick and Fresh Tomato Avocado Salad (plant-based)

Finally! The summer is here. It`s my favorite season. I tend to crave more healthy foods during the summer, so that`s just a good bonus to the heat. When it`s warm out, using fresh ingredients like juicy tomatoes, ripe avocados and a crispy salad is the best way to feel refreshed. Now is the perfect time to make quick and simple summer salads, so you get more time to spend outside doing other fun stuff. This tomato avocado salad recipe is almost as quick and easy as it gets. In less then 10 minutes you can have this simple salad ready, topped with a homemade dressing and sweet balsamic vinegar cream.
Now that`s what I call summer vibes!
Made with simple and fresh ingredients
The recipe is made up of basic ingredients. It makes for a healthy lunch, or a perfect side dish for a dinner party. All you need to make this tomato avocado salad are a few simple ingredients:
Tomatoes or cherry tomatoes – depending on what you have in your fridge. I prefer using tomatoes as I think the larger thin slices look nicer on the plate.
A creamy avocado for healthy fats… and because it is delicious
Lamb`s lettuce / corn salad – or again, if you have something else in your fridge like arugula salad you can use that
For the salad dressing you need a squeeze of fresh lemon juice, apple cider vinegar, fresh garlic and some olive oil and salt and pepper
To get he best result and add some sweetness to the plate you top if off with a dash or creamy balsamico
See the recipe card for the exact measurements and instructions.
Is this post making you crave a refreshing salad?
I sure hope so 🙂 If you like this recipe I also have some other amazing and easy salad recipes you can try like a crunchy mango and pomegranate salad a kale salad with rasperries, or if you are in the mood for a great side dish that is even more filling you should try this Bavarian potato salad. It`s my boyfriends recipe. He is from Munich so it is truly authentic. And I actually find it more tasty than the ones I get in the Beergardens.
I am enjoying a plate of the tomato avocado salad right now as I am writing this. One of my favorite ways to enjoy a salad that has a vinaigrette and balsamico in the recipe is to have it with some sourdough bread on the side.  
I just finished filming to show you what an easy recipe this truly is. See it for yourself by watching this short video: 
I hope you try this easy salad recipe the next time you are in the mood for something fresh. If you make it I would love to hear from you, please give a star rating or write a comment to let me know what you think.
If you snap a picture, tag me on instagram @by.linaelisabeth – I look forward to seeing how your salad plate turns out!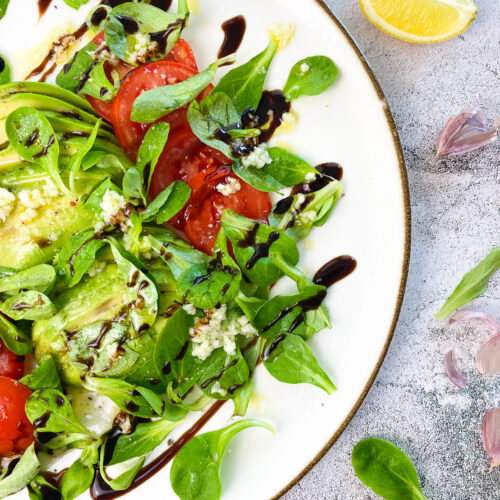 Fresh, Quick and Easy Tomato Avocado Salad
Make a healthy salad plate in less than 10 minutes. This is a great addition to the dinner table or you can enjoy it as a healthy lunch. Packed with fresh ingredients, amazing flavor and good fats this is the perfect salad for summer... or whenever you are craving something tasty.
Ingredients
Vinaigrette
3

garlic cloves

3

tbsp

extra virgin olive oil

1

tsp

apple cider vinegar

1/4

lemon juice
Salad
2

ripe tomatoes

1

ripe avocado

1

handful

lamb`s lettuce / corn salad

salt

black pepper
Instructions
Take a small cup, press the garlic into the cup using a garlic press / garlic crusher. If you don`t have one you can finely chop the garlic using a sharp knife. Add the rest of the ingredients for the vinaigrette to the cup with the garlic and mix with a spoon. Set your vinaigrette to the side while you prepare the rest.

Finely slice the tomatoes and the ripe avocado and spread the tomato and avocado slices neatly onto a plate. Take a handfull of lamb`s lettuce / corn salad and spread evenly over the tomatoes and avocado.

Drizzle a handsome amount of salt and some black pepper over the salad plate.

Use a spoon to pour the vinaigrette evenly over the salad.

Top it off by pouring some balsamic vinegar cream over your salad.

... and enjoy <3
Video