Best Champignon Mushroom Stew (plant-based)
This vegan mushroom stew recipe is AMAZING. Don`t get scared off by the cooking time on the recipe card. Yes, it takes quite a while to cook, but once you are done with prepping the ingredients 95 % of the actual work is done. The rest is simply stirring the stew occasionally while it is simmering and developing its rich flavor.
The ingredients list is short and consists of a few, easy to come by plant-based ingredients:
Yellow onion
Champignon mushrooms
Vegan butter
Vegan cooking cream (I like the one from Oatly called "creamy oat")
and if you want you can top it all off with a pop of color using fresh parsley or other herbs.
Let your Mushroom Stew Simmer on for the Best Result
Do not try to rush the cooking process by turning up the heat. The stew really needs the time to develop a delicious depth of flavor.
Cook it once, and you will know what I mean. And you will make it again and again and again. By taking the time and letting your sauce simmer for nearly two hours, the champignons develop a bit of a chewy and meaty texture.
While prepping and cooking this stew I love listening to an audiobook or one of my favorite podcasts. This is a type of multitasking I can get behind. And it helps pass the time while also being entertaining and often educational (as self-development books is my favorite genre).
How to Serve your Delicious Mushroom Stew
This hearty stew is a perfect side dish for a top notch vegan dinner. My favorite way to enjoy it looks someting like this:
This delicious mushroom stew recipe (of course)
Boiled potatoes
Cranberry jam (I love it!)
Boiled greens. I prefer using fresh brussels sprouts, but you can also buy more convenient options like frozen peas)
And if you need a replacement for the meaty component you can use a meat substitute or make your own vegan steak (there are lots of vegan recipes out there)
Now talk about a ton of flavor!
This mushroom stew is also a great addition to a tapas table. Another version of this recipe that is ideal for tapas is this recipe for creamy stuffed mushrooms.
The stew really goes with a lot of meals, I`m sure you will find your favorite combinations.
What to do with Leftovers (although it is unlikely that you`ll have any)
Although rather unlikely, if you have leftovers of this great stew make sure to store it in an airtight container in your fridge. Enjoy your lefovers the next day or over the next 3-4 days.
The only thing to remember is that when re-heating your stew you need to make sure to do so at a low temperature. Again, to make sure that the stew does not break.

I hope you will try this easy vegan stew recipe the next time you wish to seriously impress your guests. If you try this delicious recipe I would love to hear from you, please give a star rating or write a comment to let me know what you think.
If you snap a picture, tag me on instagram @by.linaelisabeth – I look forward to seeing how your dish turns out!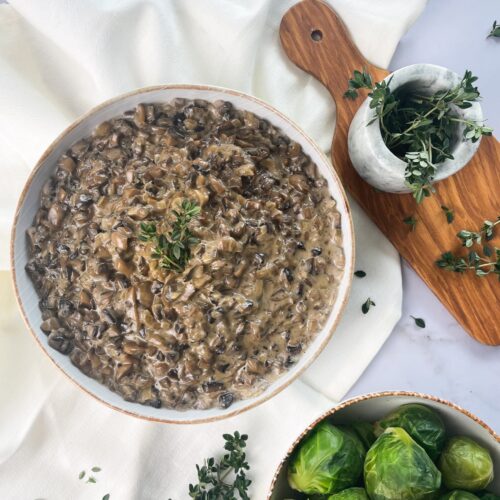 Best Champignon Mushroom Stew
This hearty mushroom stew is easy to make and so delicious.
I suspect you will be impressed by the delicious flavors you can get out of a few simple ingredients.
Ingredients
1

kg

champignon mushrooms

3

yellow onions

50

g

vegan butter

750

ml

vegan cooking cream

1½

tsp

sea salt

1½

tsp

black pepper

fresh herbs to garnish

optional
Instructions
Chop the mushrooms into small squares

Add the vegan butter to a pan and turn up the heat. Use a non-stick pan with high edges if you have one.

Once the pan is hot and the butter is melted, add the chopped onion and cook on medium heat until translucent (3-4 minutes)

Add the mushrooms (in portions if they do not all fit in the pan at first) and cook on medium to high temperature for approximately 15-20 minutes.

Add the cooking cream and 1 1/2 teaspoons ground black pepper. And let your stew simmer on low heat to medium heat for about 1 hour 45 minutes to 2 hours, remember to stir now and then.

Towards the end you will have to stir more frequently.

Make sure not to cook the stew much beyond the two hours and not on too high heat as this can cause the sauce to break.

When your stew is creamy and nearly done, add 1 1/2 teaspoons salt. Then, do a taste test and add more salt and pepper to taste.