Nut Bread / Adventure Bread (Gluten Free and plant-based))

Gluten free bread packed with nuts and seeds that is super easy to make. It has no sugar, no yeast, lots of whole grain, and there is no need for kneading, a food processor nor a bread machine. With a deep nutty flavor and a dense texture it will make you feel full and satisfy your hunger.
It is super easy to follow this recipe and to get a perfect hearty loaf.
Baking this Gluten-free Bread Recipe
A slice or two of this good bread a day gives you many of the nutrients that you should be having on a daily basis.
When mixing the ingredients you get a very thick batter. This may feel a bit strange as this is not the case when baking "regular bread", but rest assured, it is supposed to be this thick. Find the full recipe with a short video showing the whole baking process on the recipe card further down.
I am new to gluten-free baking – and even more so to yeast-free bread baking. It did take me a few tries until I manged to optimize this recipe. During the trial and error phase I was left with an under-baked bread and a bread that would not hold up, and ended up looking like a flat, large bread stick. Oh my! But I learned what to do to get the best results along the way. And the result, this delicious, hearty, and filling loaf of bread.
I baked this bread last night and am ready to enjoy a couple of thin slices for breakfast this morning. I love topping it with peanut butter or this homemade cheesy vegan pesto and some cherry tomatoes. I think I have some in the fridge – I hope so!
Delicious Bread without Sugar or Yeast
Whether you are gluten intolerant, want to (or need to) cut out sugar for health benefits, or if you simply just want to eat more healthy this recipe may just be perfect for you.
I have a friend who has to cut all added sugar, yeast and gluten from his diet – doctor`s orders. We went to the grocery store to look at the gluten-free options and many of them had yeast in them and most of them had sugar or syrup on the ingredients list. And so, the best solution was (as most often) to make it ourselves.
He loves a good bread and so I wanted to bake somehting that would fit with the new diet change and still be yummy and filling. And it had to be easy to throw together. You should try it too!

Try making this recipe the next time you are in the mood for a healthy, filling, homemade bread. If you make it, write a comment to let me know what you think. If you snap a picture, tag me on instagram @by.linaelisabeth – I look forward to seeing how it turns out!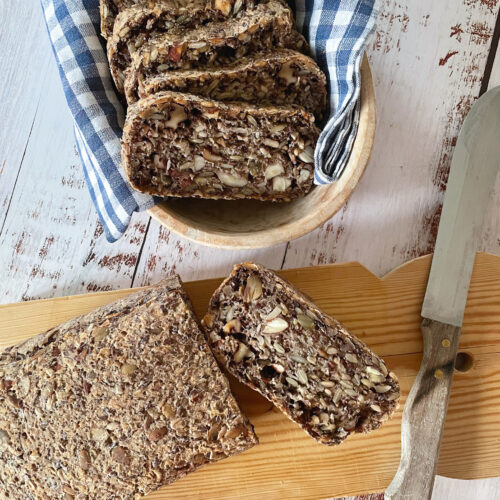 Nut Bread / Adventure Bread (Gluten Free)
A gluten-free vegan bread recipe packed with healthy seeds and nuts. It has no sugar, no yeast, lots of whole grain, and there is no need for kneading.
With a deep nutty flavor and a dense texture this bread will make you feel full and satisfy your hunger.
Ingredients
80

g

almonds

60

g

walnuts

70

g

flax seeds

120

g

sunflower seeds

120

g

pumpkin seeds

50

g

chia seeds

200

g

oatmeal

30

g

psyllium husk powder

10

g

salt

4

tbsp

walnut oil

800

ml

luke warm water
Instructions
Roughly chop the almonds and walnuts.

Add all the dry ingredients to a large mixing bowl. Use a wooden spoon or similar and mix well.

Use a seperate bowl to mix the walnut oil and water.

Add the mix of wet ingredients to the large bowl with the dry ingredients and mix well.

Now it is time to turn your oven on and preheat it to 180 degrees Celcius (356 degrees Fahrenheit), fan bake setting.

Leave the bread dough mixture in the bowl on your kitchen counter for 15 minutes.

This gives the oatmeal, psyllium and the chia- and flax seeds time to soak up the water and hence work as a binder.

Add parchment paper to a loaf pan so that it covers all the edges of it.

Pour the dough into the loaf pan with the parchment paper and use a spatula or spoon to ensure that the dough is well portioned out. Use the spatula/spoon to press down on the dough to make sure that there is minimal air in your bread.

First, bake your bread in the loaf pan for 90 minutes. Then, take the bread out of the bread pan and bake it for another 30 minutes.

Place the baked bread on a cooling rack. Let it cool down in room temperature before cutting into it.
Video