Vegan Breakfast Pancakes with Red Lentils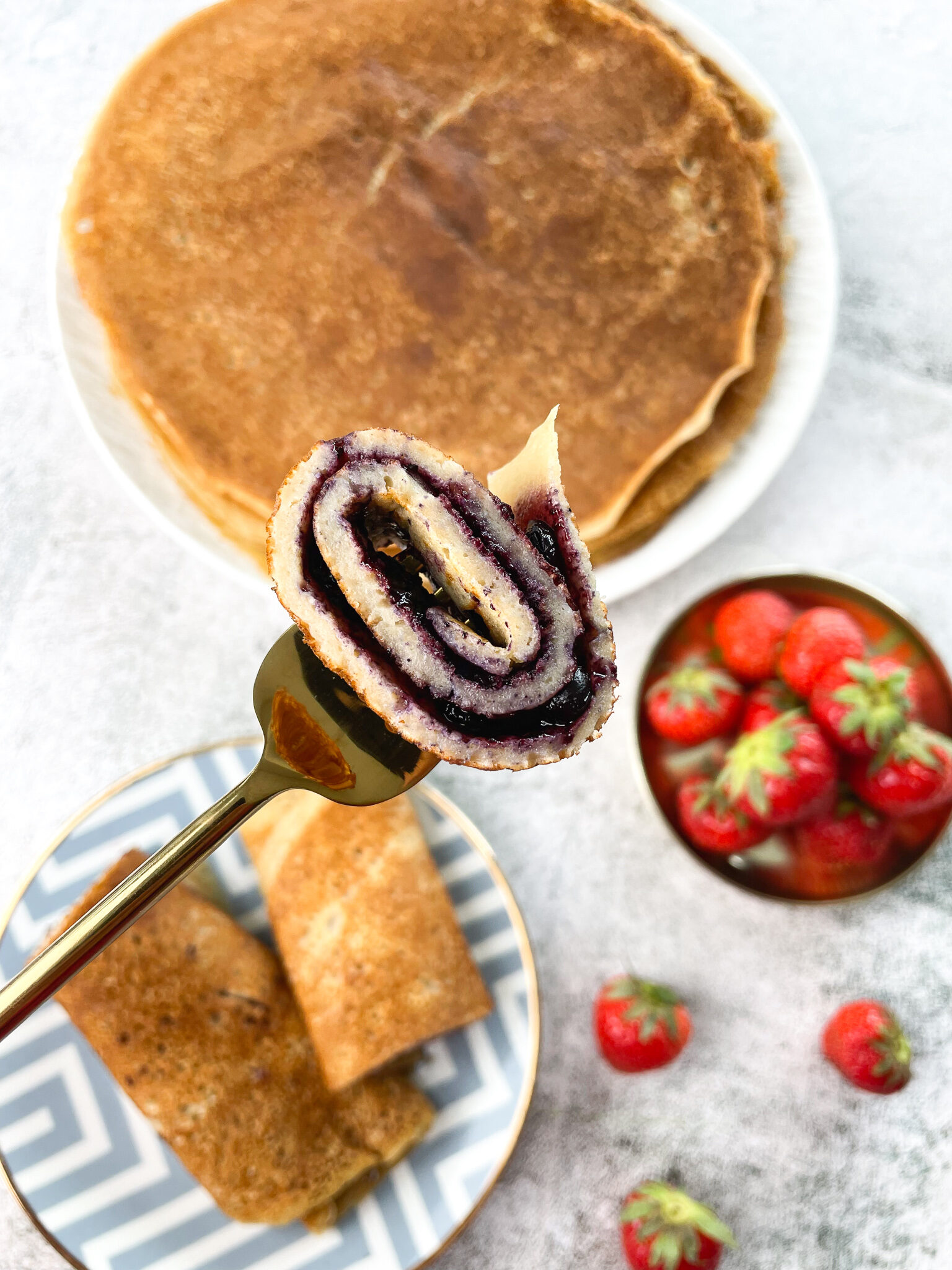 Try this healthy pancake recipe and enjoy a filling, yummy and sweet breakfast. Enjoy your pancakes with jam and fresh berries. I absolutely love these with blueberry jam – it`s my favorite.
Made with classic pancake ingredients as well as fruit and legumes, cooking this recipe is a great way to enjoy healthy food.
Who doesn`t Love the Smell of Pancakes in the Morning?!
I know I do! Breakfast is such an important meal, setting you up for the day. It should really be the dish that gives you good nutrients and an energy boost. So what better way to make pancakes than with fresh fruit and legumes. Also, having these red lentil pancakes will keep you full and satisfied till lunch.
If you enjoy lazy mornings or have hectic weekdays simply make the batter the night before and cook your pancakes in the AM. Make sure to store your pancake batter in an airtight container in the fridge over night.
If you don`t finish all the pancakes, simply let the left overs cool down in room temperature. Store them in an airtight box in your fridge and enjoy as a quick snack when you feel a little hungry.
A Perfect Way to "Hide" Healthy Ingredients in your Favorite Food
Some days I struggle to fit legumes into my meals. And so I thought – what better way than to make them part of a delicious breakfast?! I am always trying my best to follow a whole foods plant based lifestyle. And so, legumes is one of the four food groups that I aim to eat every day; vegetables, fruit, legumes and whole grains.
This way of eating can have many nutritional benefits. And still, there`s the "forever question" of meeting your protein needs. According to one of my favorite organizations, PCRM, a varied plant-based diet can help you easily meet your daily protein needs. And lentils is a good source of this. So keep them pancakes coming.
The Curse of the First Pancake
I am so under this curse. Every time. I hope yours turns out good, but if it doesn`t don`t despair, it`s a thing. The second, and third and so on should turn out great 🙂
I hope you feel ready to give these vegan lentil pancakes a try. If you make them I would love to hear from you, please give a star rating or write a comment to let me know what you think.
If you snap a picture, tag me on instagram @by.linaelisabeth – I look forward to seeing how your pancakes turn out!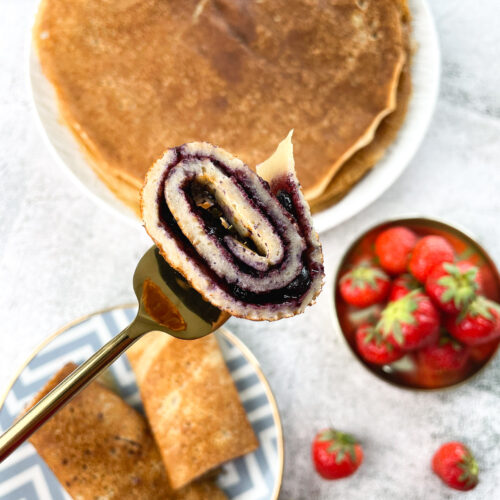 Vegan Breakfast Pancakes with Red Lentils
Yummy and healthy pancakes made with red lentils for that extra plant protein.
This easy recipe is perfect for a filling and sweet breakfast.
Ingredients
150

g

cooked red lentils

1

banana

1

tbsp

coconut sugar

500

ml

oat milk barista

150

g

all-purpose flour

1

tbsp

flax seeds

optional

vegan butter for cooking purposes
Instructions
For this recipe you need cooked red lentils. Either use pre-cooked lentils or cook them yourself. If you cook them yourself note that this time is not calculated into the cooking time on this recipe card.

Add the cooked lentils, banana, coconut sugar, oat milk and flax seeds (optional) to your food processor. For the best result use a nutriblender / high powered blender to make the mixture smooth. If you do not have one you can also use an immersion blender but the batter may not get as smooth as with a nutriblender.

Add the mixture to a large bowl. While whisking the mixture add in the flour, making sure it does not clump. You should now have a perfectly smooth batter.

Use a non-stick pan and turn up the heat to medium-high heat.

Add a dash of vegan butter to your hot pan. When the butter has melted, and is simmering, add a portion of the pancake batter to the pan using your ladle. Tilt your pan so you get a thin and even layer.

Bake your pancake on the first side for about 30-60 sek (given that your pan is hot enough) before turning the pancake. Bake it for another 30-60 seconds on the other side. Once cooked, place your pancake on a plate before adding another dash of vegan butter to the pan and cooking the second one, and so on.

Serve your pancakes hot with jam or maple syrup and fresh berries.